Permanently CLOSED
2085 S Congress Ave
YMCA CHILDCARE
The YMCA offers safe, engaging activities with trained, certified staff.
The Preschool is open weekdays from 7 a.m. to 6 p.m. at our Y located at 2085 S Congress Ave Palm Springs, FL 33406. Advance registration is recommended, but drop in is available with most recent physical and vaccination record present upon arrival.
There are additional resources available for parents throughout the year to get access to for financial aid and scholarships. Parents need to register in advance for financial assistance from the YMCA's Open Doors Scholarship Program and the Early Learning Coalition of Palm Beach County (the links for both are available along the side of page or at the bottom if on mobile).
SAFETY PRECAUTIONS
To find out more head to www.ymcapalmbeaches.org/covid19
EARLY LEARNING PROGRAM
The YMCA Early Learning Center is a program in which children will experience high quality learning. Children will be prepared for Kindergarten with a curriculum that supports social-emotional skills, as well as necessary academic knowledge. At its core, the ELC is an educational service; children will learn about literacy, math, art, and science, among other subjects. The curriculum will also support learning by offering open-ended opportunities to explore individual interests. 
We believe your child should be prepared to start kindergarten ready to succeed. Our Preschool programs provide an educational environment that is a friendly, positive and caring place to help each student discover his or her own unique gifts. Our engaging curriculum helps children reach developmental milestones and prepares them for academic learning. We believe that all kids deserve the opportunity to discover who they are and what they can achieve.
PARENT INFORMATION
We believe learning takes place as children touch, manipulate, and experiment with things and interact with people daily. Children's play is an essential component of our curriculum, through their play and experiences, themes are developed that guide our daily activities and interactions.
At the Y, we utilize FrogStreet Curriculum which is a comprehensive, research-based program that integrates instruction across developmental domains and early learning disciplines.  The cornerstones of the program include an extensive integrations of theme, disciplines, and domains; social and emotional development, differentiated instruction, equity of English and Spanish materials and instruction, and a joyful approach to learning.
Our programs use the Creative Curriculum individual assessments and also child portfolios to assess your children's developmental progress annually. The teaching staff and families discuss the results of the assessments and plan for continued growth throughout the year.
Our bilingual Preschool teachers are responsible for implementing an ongoing program of activities that promote the social, emotional, cognitive and physical development of the students. Our staff provide a quality experience in every aspect of learning that encompasses our core values of honesty, care, respect and responsibility in both English and Spanish.
BY USING FROGSTREET CURRICULUM AS OUR FRAMEWORK, WE FOCUS ON:
How children develop and learn
The learning environment in which children learn
What children learn
The role of the teacher
The role of the family
2 YEAR OLD: BRIGHT BEGINNINGS
Our 2 year old program is more than just child care. The program is designed to develop language, fine and gross motor skills, build structure as well as create social interaction through a theme based hands-on curriculum.
PRESCHOOL: Y-DEVELOPMENT
Children learn basic reading, writing and math readiness skills through a fun and nurturing environment at the YMCA of the Palm Beaches. Our Preschool program focuses on the importance of communication and self expression. In addition, this program helps develop self esteem, vocabulary, and introduce them to a community focused on positive attitude, sharing and group interaction.
VPK: BUILDING A FUTURE
The VPK curriculum is an essential preparation for your child's kindergarten experience. Teachers will use both phonics and whole language teaching methods to connect with the students providing growth on an individual basis. The children learn writing and develop a personal daily journal to stem growth and creativity. The VPK program is a strong foundation for any child's future.
AFTER SCHOOL CARE
As the nation's leading child care program, we believe children should have a place to explore their interests and talents. YMCA staff provide activities focused on academic and social growth. Children connect with others to build lasting relationships, develop a sense of belonging and cultivate leadership skills. Your child's before- and after-school care at the YMCA of the Palm Beaches will have enrichment activities like homework time, crafts, games, sports programs and other creative activities that help them learn, grow and thrive.
There is flexibility to accommodate various age groups and support all of our children enrolled. The YMCA maintains the highest standards of safety to ensure your child's well-being is in good hands at our facilities.
The Y's before and after school child care programs are provided for children (preschool through eighth grade) during the hours when there may be no supervision in the home. The program is conducted by trained YMCA staff that serve as positive role models. Our staff will engage with your children in healthy activities that focus on the values of caring, honesty, respect and responsibility.
As the leading nonprofit for strengthening community, the Y is for youth development, nurturing confident, engaged kids today and healthy, contributing adults tomorrow. We believe that every child should have the opportunities to pursue their dreams and reach their full potential. At the Y, children can discover who they are and what they can achieve through our before- and after-school care programs.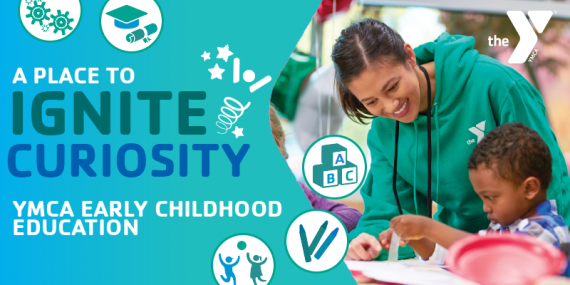 OUR BENEFITS
Licensed Establishment
Full/Part-Time Child Care
Low Child-Teacher Ratios
Healthy Meals and Snacks
Gym Activities
Outdoor Experiences
Onsite Swim Lessons
Family Engagement Activities
Free Y youth membership
Financial Assistance Available!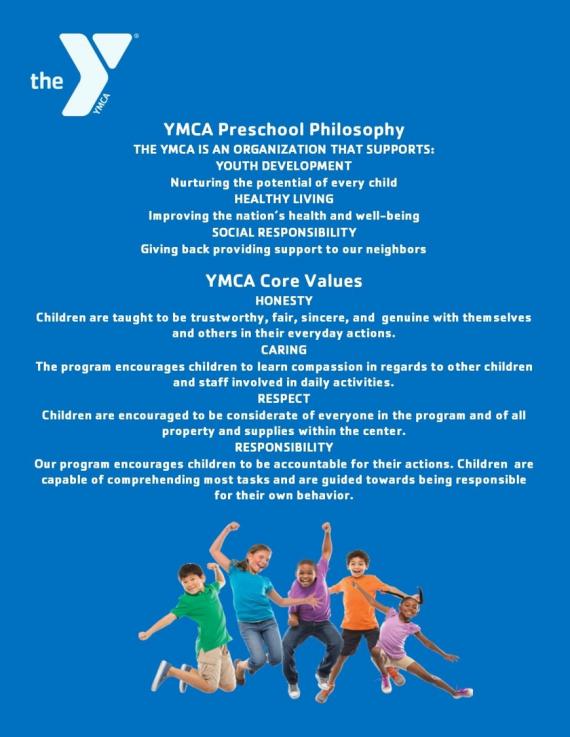 PROGRAM LAYOUT
7AM-6PM (Partial Day Available)
Creative Curriculum with Monthly Themes
Outdoor Discovery & Play
Breakfast, Lunch, & PM Snack (Inclusive)
Story Time & Rest Period
Swimming Lessons (Potty Training for 2's)
Group & Social Programming
Daily Activities & Workshops
Circle & Story Time
Reading & Writing Readiness
Math & Science Readiness
Arts & Crafts
Music & Dance
Health, Sports & Fitness
Outdoor Playscape
Outdoor Discovery
Blocks & Manipulatives
Computer Skills
Etiquette & Cleanliness
Sand & Water Discovery
Reading & Study Zone