4200 South Congress Avenue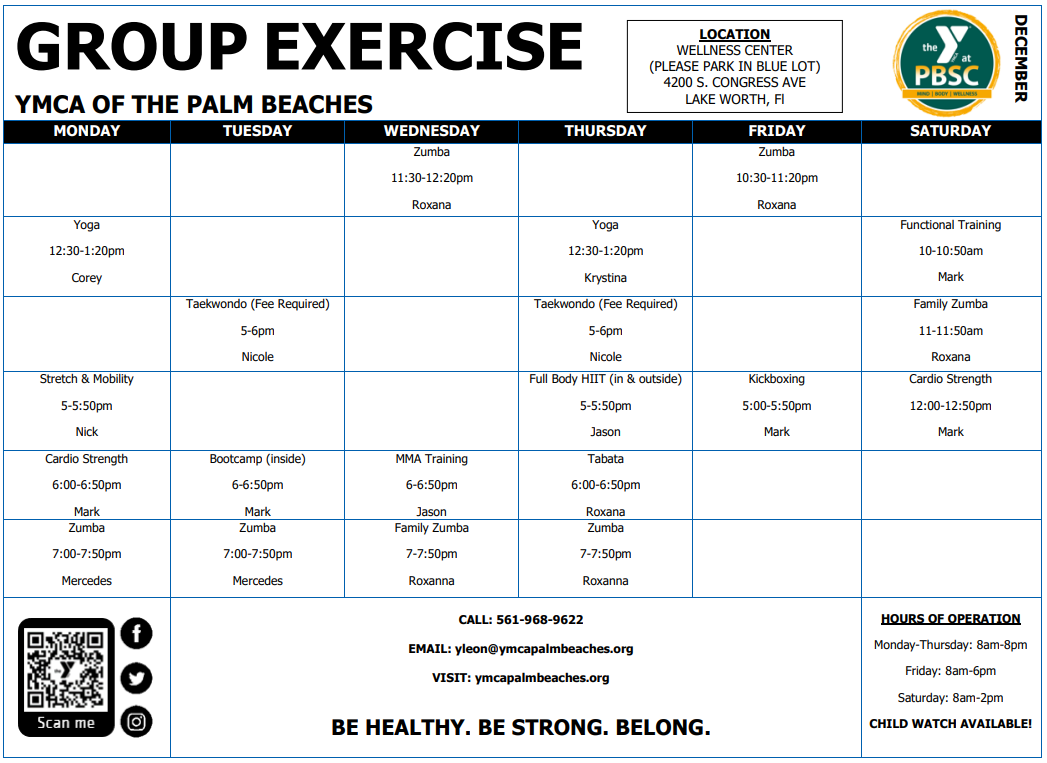 2728 Lake Worth Road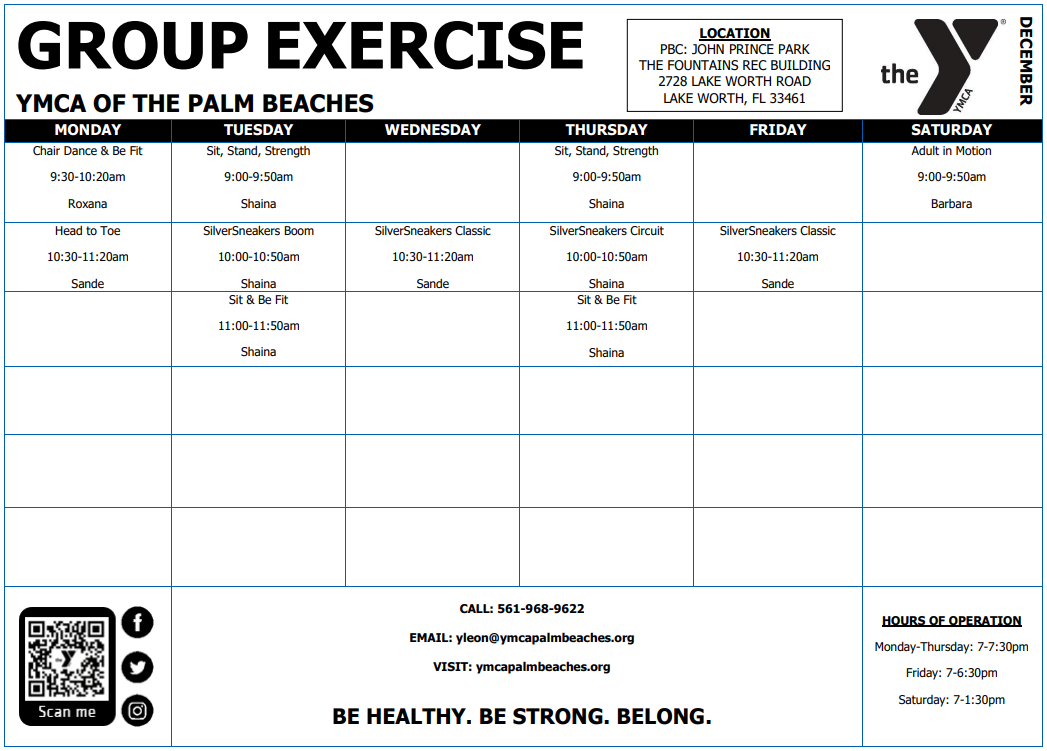 3160 PGA Boulevard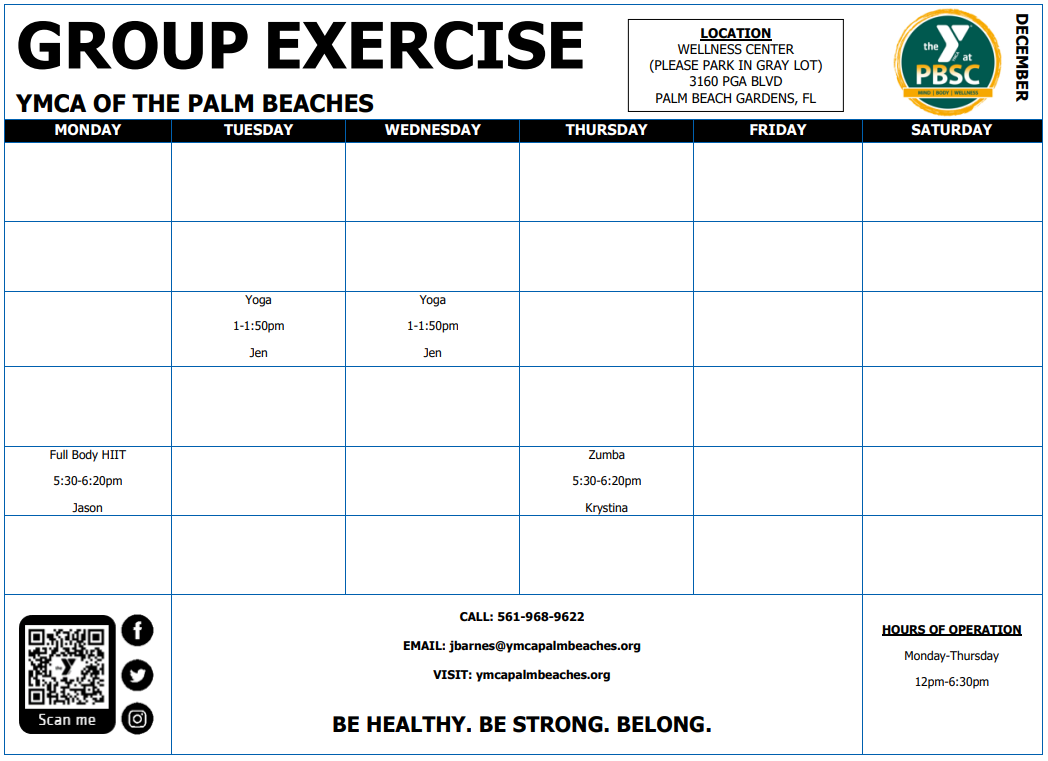 PERSONAL TRAINING & SMALL GROUP TRAINING (Ages 13+)
Whether you are just starting out, recovering from an injury or kicking your workout up a notch, we're here to support you every step of the way with individualized instruction, motivation, and support. The YMCA's affordable personal training can accommodate a variety of clientele including seniors, active adults, teens ad small groups. Our certified personal trainers will design for you a unique training program based on your individual profile, goals and needs. Whether your goal is to lose weight, increase muscle mass, fine tune for sports conditioning or improve your flexibility our personal trainers' private and small group training programs will guide you towards your success.
FIT FIRST: DISCOVERING YOUR "Y"
Stop by the Wellness Center for your FREE Fit First Coaching Session to help you PLAN, ACT & EVALUATE the best approach for your success here at the YMCA of the Palm Beaches. (Rewards are available upon each completion)
YOGA
Class is a physical, mental & spiritual practice with discipline. This will help to transform the mind & body with a series of controlled movements & breathing techniques.
ZUMBA® & FAMILY ZUMBA® (AGES 10+)
Zumba® class fuses Latin rhythms and easy to follow moves to create a dynamic fitness party! Routines feature interval training with fast and slow rhythms. These rhythms will have Latin and International dances such as Salsa, Cha-Cha, Samba, Belly Dance, Meringue, Hip Hop & more!
DANCE & BE FIT
Try our combination Dance & Be Fit class with rotating styles of cardio dance to keep you on your toes in this engaging dance work out for those of any age!
SPIN & SPIN HITT
Get ready to sweat by bringing outdoor cycling indoors! Your heart will pump, calories will burn & you will leave feeling re-energized! Instructors help with proper body alignment & cycling techniques. Try our on and off the bike High Intensity Interval Training Spin Class for a more aggressive approach.
FUNCTIONAL TRAINING-TABATA-BOOTCAMP
Whether your goal is toning up, losing weight, or  building muscle, you will see results with any of these focused high-intensity programs designed to reach results. Participants hone in on key areas in order to develop, strengthen and tone each muscle.
KICKBOXING
A total body workout that targets core strength, balance & overall self-defense abilities. This class combines kickboxing, martial arts & athletic drills all choreographed to high energy & motivating music. (gloves are not provided)
GYROKINESIS®
A system of exercise which is designed to help a person move beyond their limitations. The exercises feel like a combination of swimming, dancing, tai chi, and yoga. Gyrokinesis is done using a stool, mat, and standing. It's a flow of graceful, flowing, circular movements and powerful breathing patterns. It improves flexibility of the spine, range of motion, and agility; help to mobilize joints and increase stamina. All levels are welcome.
POWER PILATES MAT
During these classes you use your own body weight to provide a variety of muscular challenges helping to improve posture, while strengthening and stretching the entire body.  Pilates Mat Classes help to burn away fat, build muscle, and increase core strength.  This class is uninterrupted flow of beginner and intermediate exercises, that will awaken and work all muscle groups, and leave you standing taller and feeling strong and powerful. All level are welcome.
SILVERSNEAKERS BOOM: MIND & MUSCLE
This fun dance-inspired workout improves cardio fitness with easy to follow moves set to energizing music. It has the best of Yoga & Pilates combined to relax the mind & body. Stand or sit as you move through muscle conditioning blocks & activity specific drills designed to improve strength & functional skills.
SILVERSNEAKERS CIRCUIT
This specialty class offers standing low-impact choreography & standing upper-body strength that works by using hand-held weights, resistance bands, & gripped ball work outs to build strength. Suitable for every fitness level and can be modified for each individual's needs.
SILVERSNEAKERS CLASSIC
Inspiring low–impact training for all fitness levels. Increases muscle strength, range of motion & improve activities for daily living. A chair is used for seated exercises & standing support.
ZUMBA® GOLD & BEGINNER'S ZUMBA
This class is for active older adults looking for a modified Zumba® class. Original moves you love, but at a lower intensity. Class will introduce easy to follow Zumba® choreography focused on balance, range of motion & coordination.
ADULTS IN MOTION & SENIOR AEROBICS
Class is a low impact cardio workout designed with the older adult in mind. Sit or stand through stretch, cardio, strength training & cool down.
SIT & BE FIT
Class consists of chair exercises designed to improve function and fine motor skills. The program is great for older adults with disabilities, poor balance & anyone with trouble standing or getting on the floor to exercise.
WATER AEROBICS LIVE & CD
This great aquatic cardio workout eliminates the stress and strain that can often come with most land workouts in a fun upbeat atmosphere.
SILVERSNEAKERS SPLASH
A fun, senior focused shallow-water exercise class that uses a signature splash-board to increase movement and intensity options.
WHAT IS GROUP EXERCISE?
Group exercise is one of many ways the Y supports members in achieving their health and wellness goals. The YMCA Group Exercise Programs improve health, encourage social interaction and with motivating music, are one of the most enjoyable ways to move and feel great. Highly trained staff members lead the programs and often tailor them to the specific needs of the community.
Classes are designed to deliver a fun and effective exercise experience in a supportive group setting. Each program has been professionally designed and tested through a comprehensive program development process, and all are continually refreshed so the programs evolve with the latest trends in group exercise to keep you motivated and moving.
WHY SHOULD YOU TAKE PART IN GROUP EXERCISE?
1. Become Accountable
Regular physical activity combats health problems such as Type II diabetes and hypertension. Consistently working out reaps many health benefits, but many people have difficulties with sticking to a routine day after day. Among the most notable group fitness class benefits is accountability to others in the class. As participants get to know one another better, someone missing several classes it is common for the missing person to receive a text or phone call asking if the they are okay.
2. Boost Motivation
Studies have found that someone who started a weight loss program with at least three friends or family members completed the program, and 66 percent maintained their loss. Focusing on fitness goals with a group boosts motivation and gives you a built-in support team for achieving your goals.
3. Work Out Safely
A group exercise class adds structure and typically provides a group instructor versed in proper warm-ups, cooldowns and motions that protect your body and help you avoid an injury. At least one other person in the group likely has exercise experience, as well.
For older adults, working out in a group increases safety in case of a health problem during the workout. Other group members are there and can call for help if needed.
4. Improve Pain Tolerance
One study surveyed people exercising on rowing machines and found they improved social bonding, pain tolerance and performance when they rowed in sync with one another. Working out in a synchronized way improves mental health through the social aspects alone, and it also enhances athletic performance for the activity.
5. Gain Focus
Group classes have a singular focus with everyone striving toward the same goal. For those who are competitive, groups encourage striving to be the best in the class. For those who aren't competitive, the social aspects encourage people to keep up with the performance of others.
Figure out your personality and what motivates you. Do you need a class of highly competitive people who push you to do your best? Perhaps you're laid back and need encouragement and advice more than anything else. The personality of the group class instructor drives the personality of the group overall.
Find Your Group Today!
Sit in on a class or two and see which exercise group matches your personality and goals. Call the YMCA at 561-968-9622 to register for Group Exercise, Aqua Aerobics or Kids Club.