Elsner Skate Park : YMCA of the Palm Beaches
BENEFITS OF SKATEBOARDING & BMX: 
Provides flexibility: Ankles must remain flexible and body should stay limber while skating or riding a bike. The more tense and inflexible a person is, the harder it is for them to perform.
 
Offers full-body workout: You're moving your feet and your legs, you're using your arms to help balance. You're twisting your body. All these things must happen simultaneously, giving your body a  variety of movements.
Physical Endurance: Most riders don't just go for a few minutes and stop- many find it so enjoyable that they spend hours a day, getting their physical endurance levels up.
Teaches Precision: To nail a trick, many motions need to align perfectly, so when you fail, you try again, and again, and again. But each time, you make adjustments. You place your feet differently on the bike or board, you change your timing, you adjust your speed, you try and land differently. Until you have the motions and timing down to a precise science, you keep trying!
Improves Coordination: Skateboarding & BMX involves a lot of coordination between your eyes, legs, feet, and arms. The more you skate, the better you'll get at this. Precision and coordination are used throughout your life, whether you skate or not. When you improve these traits, you better your ability to do all sorts of different things from driving to climbing to multi-tasking.
Calorie Burning: Depending on the intensity of the session, the average person will burn between 150-500 calories per hour.
Skills Transfer To Other Sports: Surfing, snowboarding, wakeboarding, or mountain biking. If the waves are flat, the snow is melting, or the water is too cold, a person can help keep their skills sharp and fitness levels up by simply riding a skateboard or bike.
Teaches consequences, practice, and patience: Skateboarding & BMX provides a perfect opportunity for a young person to take calculated risks in a controlled environment, with very real and immediate consequences if maneuvers are not executed properly. Similar to martial arts, these skills and fundamentals must be learned and mastered over time with practice and patience, (unlike the instant gratification provided by television and video games).
You learn to fall: Prevention of future injuries is one of the most beneficial things that skateboarding has to offer in terms of health. When you skate, you learn how to avoid falling (if possible), and you also learn how to fall correctly. Skateboarders & Riders naturally get better at knowing where to place their feet and their hands as they progress with their skating. This is a valuable tool to have in life because it will reduce the chance of freak accidents. You'll naturally be more able to recover from slips, trips, and stumbles and avoid falling on your face.
Stress Relief: Any physical activity is considered to be good for relieving stress. Skateboarding & BMX can help you take your mind off things. Alternatively, it can also help you think clearly about things. Skateboarding seems to bring things into perspective and allows you to feel as though you're more in control of other aspects of your life.
Overall Health: As with all forms of physical exercise, skateboarding can reduce or eliminate your risk for many health problems, such as high blood pressure, diabetes and obesity. Skateboarding & BMX can also reduce your risk for coronary heart disease by reducing your triglyceride levels and increasing your "good" cholesterol.
UP FOR A LESSON? CONTACT OUR OELSNER SKATE PARK LEAD JUSTIN "JAY" JABLONSKI @ 561-904-1175
YMCA STEPS TO SKATEBOARDING & BMX
(Note that steps are not defined as classes and it may take additional sessions to climb the ladder toward success in skateboarding, but the more we fall, the more we learn and the stronger we become)
STEP 1: RIDING THE BOARD/BIKE
Skaters/Riders learn the proper stance of how to stand on the board without falling down. You will learn the proper approach for pushing off, positioning for balance, use of weight and pressure, how to stop, and most importantly how to fall. In this stage we look toward building your balance and confidence which we hope to instill and promote through all aspects of life.
STEP 2: BEGINNER TRICKS
Once basic skateboarding & BMX is mastered, beginner tricks will be taught basic elements of  both street and vert.
-Pop Shuvit
-Manuals, Hops, & Ollies
-Dropping in & Pumping
-Kickturn
-Rock N' Rolls
-Keepin' Steady and More!
STEP 3: TAKING CONTROL
Taking it to the next level and finding your drive and passion in life is what we are all about at the YMCA of the Palm Beaches and we are excited to be with you from start to finish on your skateboarding or BMX   journey. It is at Step 3 that we work to pushing our skaters & riders towards more challenging tricks in a safe environment and allow them to reach beyond what they thought their limits were by taking the creative lead. Here were work toward perfecting balance and process through the different elements for flip, spin and grind tricks. As our lead instructor "Jay" tells every skateboarder/rider "Skateboarding & BMX  is setting a goal and persevering until you master it."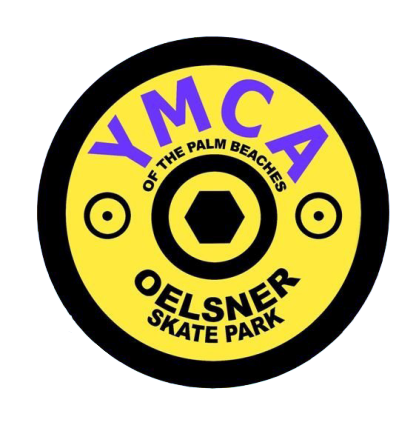 Hours:
Monday, Tuesday, Thursday, Friday: 4:00pm-8:00pm
Saturday: 4:00pm-8:00pm
Sunday: 1:00pm-6:00pm
**Closed Wednesdays for Park Repairs and Private Lessons
Fees:
YMCA Members:  FREE
Non Members: $3
*FREE COMMUNITY SKATE JAMS ON SUNDAYS*
Holiday Hours
Closed Thanksgiving, Christmas Eve & Christmas Day
PARTICIPATION & SUPERVISION:
Children must be at last 6 years old to participate.  Children (12 & Under) must be accompanied by a parent or guardian while at the YMCA skate park. All Participants MUST have a signed waiver. All participants (18 & Under) must have parent or legal guardian sign the waiver in the presence of a YMCA staff member to participate.  Proper ID is required and a copy will be made for you at the front desk once a waiver is signed. Helmets with a working chin strap MUST be worn at all times. Knee pads, elbow pads and wrist guards are strongly recommended.